Lake Palermo Ferry
The ship during positioning in Lake Palermo for screenshots, 2015.

Nickname
The LP Ferry
Builder
Old Palermo
Construction Started
September 2012
Completed
September 2012

Battles
Palermo Civil War
Fate
Sunk along with Battleship 11/19/12
 The
Lake Palermo Ferry
, or the
LP Boat
, is a ship which was built in September 2012 and temporarily reserved the title of the largest stamper cruise ship in the Personal Server world until over passed. She sunk during a raid on Sunset Lab along with the
Battleship 11/19/12
and remained capsized until retrieved.
The ship was first planned and built in Sunset Lab by Sunsshines and other builders as an attempt to compete with the local ship builders in Lake Palermo during September 2012. She remained in Sunset Lab due to testing still on going with the massive ship, fears of her capsizing were heavy during this time.
She remained docked until around late 2012 she was released from port and capsized, it is said she was damaged as well during the Sunset Lab raid which sunk the Battleship 11/19/12, it is thought if this is true then she was used for cover during the battle.
She was later removed from the port and saved as a model after repairing.
Preformance
Edit
The ship failed attempted preformance tests however if she would've floated she would've fit over 20 people on her and she would've been the biggest effective PS ship on ROBLOX until over passed by another PS in Late 2012.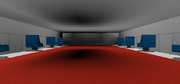 Ad blocker interference detected!
Wikia is a free-to-use site that makes money from advertising. We have a modified experience for viewers using ad blockers

Wikia is not accessible if you've made further modifications. Remove the custom ad blocker rule(s) and the page will load as expected.