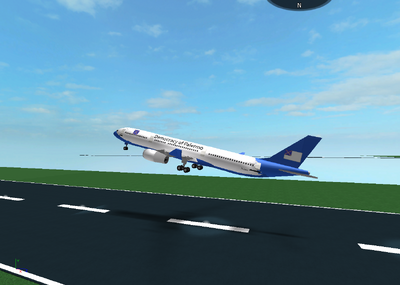 Palermonian (talk) 21:54, August 21, 2014 (UTC)The Airbus VC-A330-300, dubbed as Blue King 2 is the second official air transport of the King/Queen/Emperor/Empress/President and the Prime Minister of Palermo. It is a modified and military version of the Airbus A330-300, operated by the Palermonian Army. The VC-A330 carries the tail number "PL2142". Similar to Blue King 1, BK2 carries a reversed variant of the flyPalermo livery.
Development
Edit
In early Spring 2014, Palermo's official flag carrier, flyPalermo, was revived (roleplay). The owner of flyPalermo, ROBLOXBloxxerDJL was triggered by the revival to make a Palermonian Air Force One. The project never began until June of 2014. The aircraft is now in service, beginning on August 21st, 2014. The A330 went into service about an hour later after the Boeing.
Blue King 2 is an Airbus A330-300, the base model being built by yrrebRBLX and used Crazyman32's plane kit. It is a single-deck, widebody aircraft powered by two Rolls-Royce Trent 700 engines. The aircraft has similarities compared to BK1, like the lack of a refueling pod, even though the A330 has slightly lower range than the Boeing 777. BK2 has better short field compabilities as it is lighter and slightly shorter than BK1. The interior features the same layout as BK1, but the A330 has executive seats set out differently. As with Blue King 1, no occupants board or disembark from the right side unless there is a special reason or an emergency.
The livery features a blue underside and a blue tail with "Democracy of Palermo" written on both sides of the fuselage, the Palermonian flag on the tail, and the Palermonian logo near the front.
Ad blocker interference detected!
Wikia is a free-to-use site that makes money from advertising. We have a modified experience for viewers using ad blockers

Wikia is not accessible if you've made further modifications. Remove the custom ad blocker rule(s) and the page will load as expected.